| | |
| --- | --- |
| sHHorseback | Riding |
| HJune Summer Caps forse | Lesson |

FUN PAGE

SHOWS







parents-Q&A










Academy of Riding Starlight Stables offers horseback riding lessons in Kansas City, Missouri that are fun & informative . The Horse Riding Lessons are designed to fit your lifestyle and help your Horse Dreams come true! Adult and Children Horseback Riding Lessons with School Master Horses (to ride) Western, English, Dressage, Jumping, Trail, Games, Showing,Training, Kids Summer Camps (June), Birthday Specials, Horse Clinics , Events,horse information guides for parents and much more about horses and horseback riding. academyofriding.com,starlightstables.com,starlightstable.com

Starlight Stables is located in Liberty Missouri, just 15 min. from Kansas City Missouri.

For a fabulous horseback riding experience CALL US at (816) 805-2364

Expert School Master Horses & equipment available.

OUR SCHOOL MASTER HORSES, will HELP YOU LEARN GREAT NEW HORSE SKILLS!

"Helping my students find the joy in horses makes my day!" - Terry Bowman




Fantastic Horse Riding Fun For Friends and Family !!

CALL NOW 816 805 2364 for Horse Riding Lessons

Academy of Riding Starlight Stables in Liberty, Missouri

2014 Horseback Riding Lessons for

Adults,Teenagers and Kids Sign Up Now!

June 2014 Week Long Summer Camp for Kids!

Sign Up Now for Horse Camps in June

Great Horses Great Fun !!




October 26th 2014, Starlight Stables Horse Show Fun!!




Summer and Fall fun for you at Academy Of Riding Starlight Stables!

Friend Us on FaceBook @ Terry Bowman





Movie for the horse lover in your family

The Lone Ranger played by Armie Hammer Rides again and

Johnny Depp as Tonto has his say.

With a nod to the past with just the right amount of plot twists, action and of course the famous white horse Silver. Disney's The Lone Ranger is a GREAT SUMMER RIDE for the whole family , Hi Ho Silver Away!





Horse Fun, Horseback Riding Lessons, Horsing around Western, English, Hunter/Jumper, Dressage,Barrel Racing,Trail riding, Horse information, Lessons on Horse Care, Horse Safty, Horse Games, Horse Trail Rides, Horse Show, Horse Birthday Parties! Holiday/Birthday Gift certificates

Riding lessons in Kansas City for children and adults riders in Liberty and Kansas City, Missouri
Fun and Informative Horse Riding Lesson For Beginner, Intermediate, and Advanced Riders.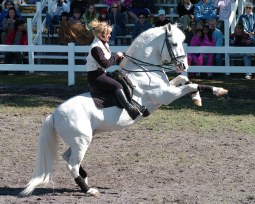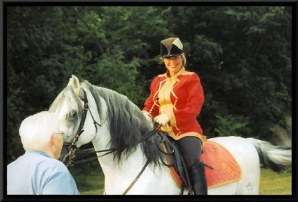 I am excited to offer in collaboration with Terry Bowman of Academy of Riding Starlight Stables, this opportunity. For horse riders and enthusiast the chance to experience up close the real magic of the Royal Lipizzan Stallions of Austria.
The Famous Herrmann's Royal Lipizzan Stallions of Austria in Sarasota Florida U.S.A.,

Gabriella Herrmann

Horseback Riding Lessons For The Whole Family - School Master Horses, Instruction, and Equipment Provided!

Chelsea has learned so much from you in such a short amount of time. She was timid and shy and reluctant to even get on her horse Mac. Since we have been taking riding lesson at Starlight, Chelsea's is gaining confidence in her ability to sit and control a horse. She is so proud to have advanced to Pumpkin during her riding lessons. And now asks me to stop what I am doing so she can go to the barn and play with her horse Mac. Being a long time horse person this warms my heart and I know how much Chelsea will get out of enjoying horses and knowing to ride for a lifetime. For this we are forever indebted. - Karen




My journey at Starlight Stables began when I was 12. Terry and the wonderful school master horses added so much to my life. Lessons that have helped me not only in my equestrian career but my personal life. I have been a clinician, horse show judge, show coach, instructor and even given public appearances with and without horses. With the help of the wonderful horses at Starlight Stables and Terry's mentoring I have grown up to understand the value of friendship, fair play and accomplishment. I have known many other students that Terry has helped as well. Even though I am married now and have moved to Tennessee with my husband and 2 children, Starlight Stables will forever be my home away from home. As a mom and past student I highly recommend that you come and experience everything Starlight Stables has to offer!!! Thank you Terry and Academy of Riding Starlight Stables.

Your Sister In Horses Forever-- Sarah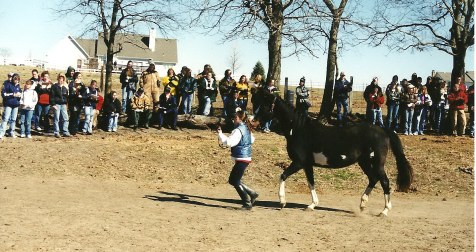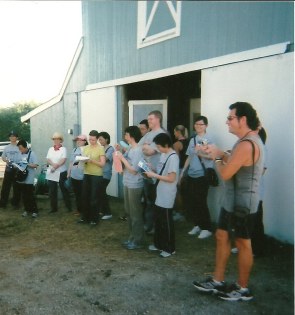 Clinic and for the FFA Horse Judging Team at Academy of Riding Starlight Stables Visiting Chinese Professors, Horse Clinic for William Jewel College Corporate Events and Team Building , Exspert Instruction ,Horses and Equipment Privided
Kids Summer Horse Day Camps, are great fun for kids and teenagers. Camp includes 2 hours of horseback riding lessons daily, lots of horsin around, horse crafts, horse T-shirts and horse photos!! More information "Summer Horse Day Camps" link below to reserve your child's spot for our 2013 kids summer horse camp.

Kid FriendlySchool Horses

For your "horse crazy" boy or girl!

Registration for JUNE Summer Camp 2014 is now open!

A Favorite Kids camps for Children 8 -17 teen! Teaches Horse Riding, Care, Safety, FUN, Responsibility, Friendship, Sportsmanship, and Leadership.

Dear Terry,

I have enjoyed working with you at Starlight

Stables over the last twenty years. It's a pleasure to see

your positive attitude when handling the animals, educating

your staff, and instructing your students, all creating a delightful

experience when visiting your stables. You are certainly an asset

to the community and appreciated by those individuals seeking

knowledge and desiring to improve their horseback riding skills.

Please continue the good work.

Sincerely,

Robert L. Mitts D.V.M

Holt Animal Clinic

Clay County Missouri





NEW For Parents!!

Guide for Parents about finding great Summer Camp with Horses




Children's Horse Summer Camp Page

GuieBottom of Page!!

Academy Of Riding Starlight Stables offers special horseback riding lessons in Liberty, Mo/ Kansas City, Missouri Children Horse Summer Camps, all styles of riding, all breeds of school master horses
one of a kind Horse expert Events, Clinics, Riding Lesson and Horse Training packages for you & your horse.
We know the difference horseback riding made for us & it will make a positive difference in your life too!
For more information simply phone us at (816) 805-2364 or go to academyofriding.com,starlightstables.com,starlightstable.com

FUN HORSEBACK RIDING

on

FAMILY VACATIONS !

SPECIAL PACKAGES FOR Kansas /Missouri

OUT OF TOWN GUESTS

CALL 816-805-2364

starlight@embarqmail.com




Horseback Riding Lessons for Adults

Birthday Specials available,

Gift Certificates,

Special Riding Lesson Packages

Clinic Series "Speak Horse"

Royal Lipizzaner Dream Horse , Riding Clinics and Events




Welcome to the Academy of Riding

Starlight Stables!




Starlight Stables, named after Terry's first pony,

offers classes for adults & children.

Terry has over 20 years of experience in

instructional horse riding to

meet your individual needs.

Find out more about Terry:




Speak Horse Clinics are coming to Missouri, Kansas , Florida and Tennessee!! Learn how to speak to your horse and have it listen. Training clinics for people with and without horses.

2014 Horse Show Sign Up for Oct. !!!

Sign Up Now!!




Congratulations to our three trophy winners at the Winter Horse Show!

Grand Star: Cezanne

Star: Tweedy

Reserve Star: Allie




Share this site with a friend!




Horse Riding Lessons!!

PAY NOW WITH

PAYPAL

"Show me a person's horse & I'll tell you about the person"
I believe in this saying so I think I'll let my horses speak for me.
Thank you for visiting & letting me share the joy I've found in my relationships
with these horses that I know and love.
You are most welcome to join us at Academy Of Riding Starlight Stables in Liberty Mo.
Please call (816) 805-2364
Terry Bowman
www.academyofriding.com,starlightstables.com,starlightstable.com copyright 2007 / 2014 Academy of Riding Starlight Stables / Kansas City Missouri -Kansas Area


Academy of Riding Starlight Stables / Serving the Kansas City Missouri and Kansas Area.
(816) 805-2364



SPECIAL EVENTS PROMOTIONS:

At www.academyofriding.com

November & December-

Christmas Gift Specials, Horse

Riding Lesson Certificates with Gift wraped

Horse Book for under the tree!!

January & February-

Valentine Special Romantic & Fun

Horse ride for two or more with card. Academy Of Riding Starlight Stables

Febuary & March

Time To Register for Horse Camp in June and August, 2014

Where: Liberty Missouri Mon.-Friday 8:00am -12:pm

Week long Summer Camps for children/ Horses, daily riding lesson, fun and every thing horse!

Two Hours Of Horseback Riding Lessons Every Day !!




Herrmann's Royal Lipizzaner Stallions of Austria combined with Academy of Riding

Presents a once and a lifetime clinic and event at the Royal Lipizzan Ranch in Sarasota Florida!

Horseback riding vacation in Sunny Sarasota Florida

The Royal Lipizzaner Stallions Dream Horse Clinic and Event in Florida

All horse lovers are invited to join Gabriella Herrmann and Terry Bowman in Florida. For 3 days with the magnificent Herrmann's Royal Lipizzaners Stallions Dressage on the famous stallions, learn to ride and train these great white stallions , See them perform, learn the training and history of these incredible horses! Learn Dressage and how to ride with the Famous Herrmann's Family and the World Renown Herrmann Royal Lipizzaner Stallions of Austria in Sarasota Florida !!

( go to Royal Lipizzaner Clinics and Events page)

Go to Royal Lipizzaner Page for details!!

March, April,May,June

RESERVE YOUR SPOT NOW!!

June Horse Week Long Day Camp With Horses!

Week long kids horse day camps ages, 8 through 18 teen. Summer Camps for all children 8 years and up starting in June, "THE BEST HORSE SUMMER CAMP THERE IS" Horses , Riding Lesson Daily Equipment Provided ,Check out our Summer Camp page for more information call 816-805-2364 Academy Of Riding Starlight Stables Kansas City Area in Missouri

New Guide for parents to help in finding the right Summer Camps with Horses, Bottom Of Children's (Summer Horse Camps Page) academyofriding.com

May & June-

To Grandmother's House We Go

(or Aunt & Uncles)

Reserve your spot NOW for Summer Horse Riding Lessons and Week long Summer Day Horse Camps for kids who love horses !!

SPECIAL, FUN horseback riding lessons at Starlight Stables in Liberty, Mo

Let us help you make the visit to Missouri or Kansas memorable!

Check out our horse summer camps in June for 8-18, Enrolling Know !!! ( see summer camp page )

July & August-

For out of town visitors,make reservations

Whole families can ride!

Enjoy your Horse Experience

on your next trip to the Midwest. Close to Kansas City Missouri and Kansas City,Overland Park Kansas, in Liberty Missouri. Call to make a appointment 816-805-2364




August & September-

Last Summer Camp with Horses for Children ,Horse Riding Lesson and Horse Fun for a week ? Mom's Back to School Special

10% off Just for You!

Special horseback riding, ride times for

Mom's Day Out and when your children are in school!




September & October

Get me ready to ride a horse!

For the Starlight Stables Academy Of Riding 2014 Horse Show !

Sign up NOW for the special rate and Horse Show

Horse Show at Starlight Stables

Horse Fun In Liberty Mo. Close To 35 Hwy and K.C.Mo

October , 2014 !!!!











Academy of Riding Starlight Stables is close to, Parkville MO, Smithville MO, North Kansas City MO,Kansas City Missouri, Independence MO, Blue Springs MO, Lee Summit MO, Excelsior Springs Mo, Kearney MO, Liberty MO, Holt Missouri, Zona Rosa Missouri , Briaclif Missouri, Plattewoods MO, Liberty Missouri Riverside MO, Platte City Missouri, Kansas City, Briar Cliff MO, Lawson Missouri, Lathrop Missouri,Blue Springs Missouri, Polo Missouri, Plattsburg Missouri, Kansas City MO, Brookside MO and the Country Club Plaza. Kansas State Line..Overland Park KS, Mission Kansas, Olatha Kansas, Fairway Kansas, Shawnee Mission Kansas, Leewood Kansas, Leavenworth Kansas,Kansas City Kansas, Bonnor Springs Kansas.Sarasota Florida, Tampa Florida, Orlando Florida, Miami Florida, Hollywood Florida, Saint Petersburg Florida, Fort Myer Florida, Clear Water Florida, Sun City Florida, Palm Beach Florida, Naples Florida, Boca Raton Florida,kc Mo,Mo,Kansas,Missouri,Kansas City
Bookmark Delilcio.us,Furl it,Technoratil,Ask,myweb,propeller,Live Bookmarks,Newsvine,Tail Rank.Reddit,Slashdog,Digg,Stumble upon,Geoogle Bookmarks,Sphere,Blinkit,Spurl